Product Description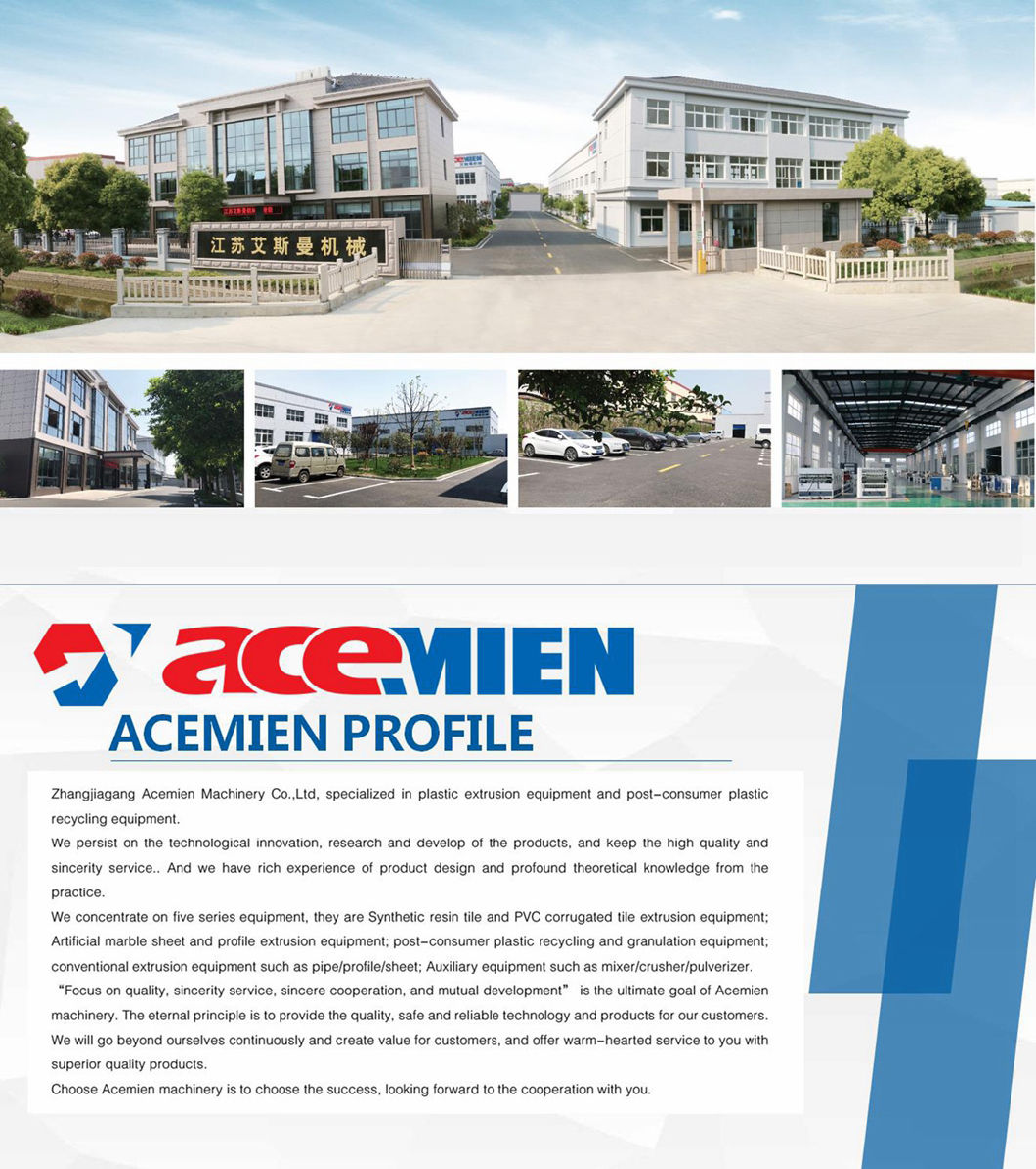 PP Construction Hollow Board Production Line
The production line can use PP raw materials and adopt a single-screw extruder to produce single-layer hollow sheets. The quality and specifications of the produced plates meet the requirements of the demanding company.
The extrusion machine mainly consists of feeding system, main extruder, extruder vacuum system, screen changer, metering pump, extrusion die, vacuum setting die, water circulation cooling system, setting table vacuuming system, cooling bracket, Traction machine, longitudinal trimming machine, horizontal cutting machine, stacking table, electrical control system, etc.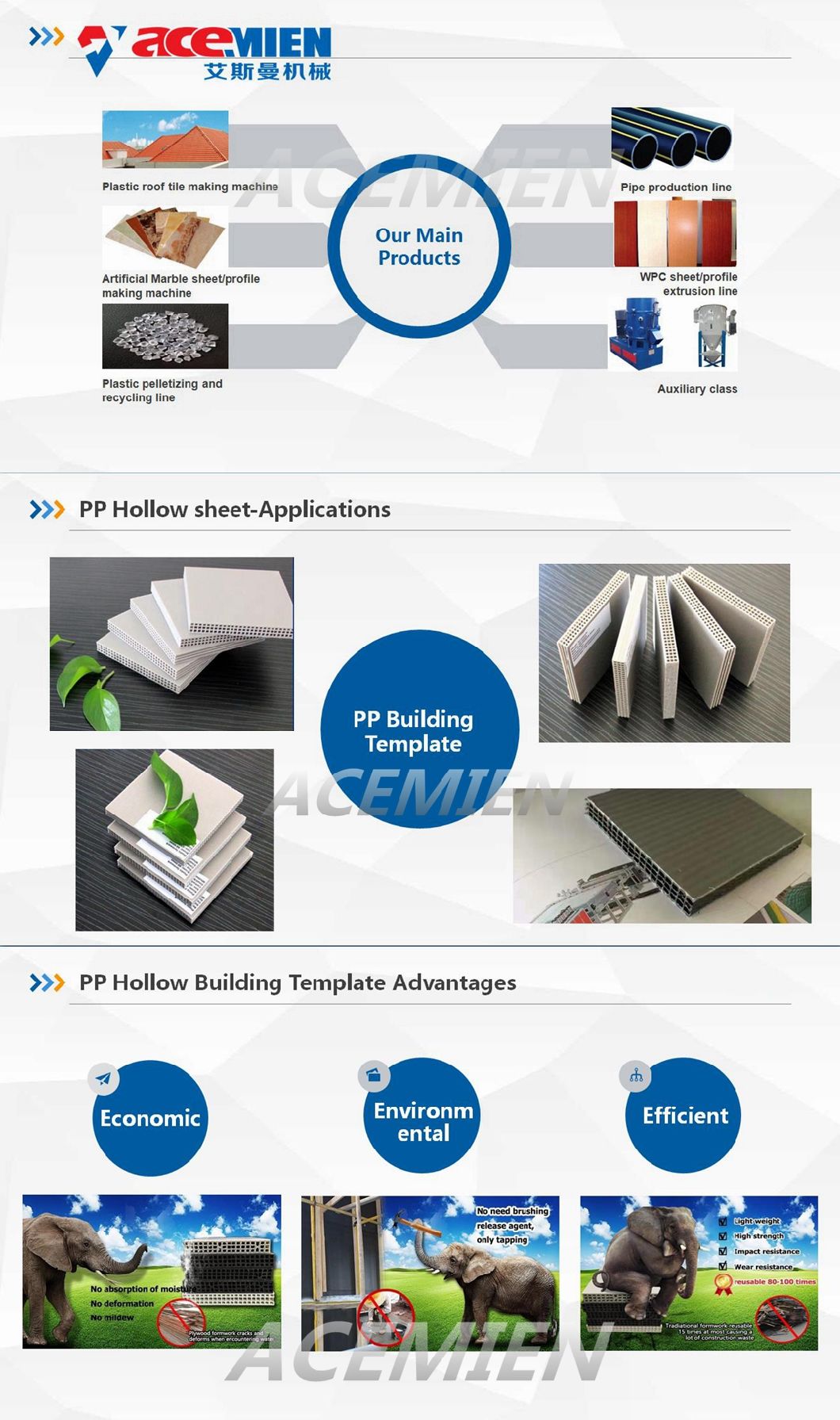 PP Hollow Building Template Advantages:
1. Light weight, high strength, high hardness, impact resistance, wear resistance.
2. Surface is smooth, bright and clean; Concreting and forming effect is good for pp hollow sheet making machine.
3. No absorption of moisture, no deformation, no mildew; Long-term immersion stratification in the water, no bubbles, sheet size stability, especially suitable for underground and damp environment.
4. Good toughness. pp hollow sheet making machine could be used as cambered special-shaped formwork.
5. Acid and alkali resistance, corrosion resistance; pp hollow sheet making machine is very suitable for the engineering application in coastal areas, mine, as well as seawall. pp hollow sheet making machine needs not do any preservative treatment both in using and storing the formwork, which do not pollute the concrete surface.
6. The reusable time for pp hollow sheet making machine can reach more than 60 times, long service life.
7. Waste products can be recycled and reprocessed, making full use of waste materials. This property can greatly reduce the project cost compared with wooden formwork and bamboo formwork.
8. Environmental protection and energy saving, no pollution. No any poisonous or harmful gas.
9. Demould easily. No need brushing release agent, only tapping, the plywood formwork price will fall off. Shorten working hours and speed up the construction schedule efficiently.
10. Easy to process. Sawing, drilling and nailing are all available. pp hollow sheet making machine can be combined vertically and horizontally optionally.
11. Easy to remove. Removing is convenient, quick and safe, and the supporting is also easy to operate, advantageous to the organization construction, effectively improving the construction schedule.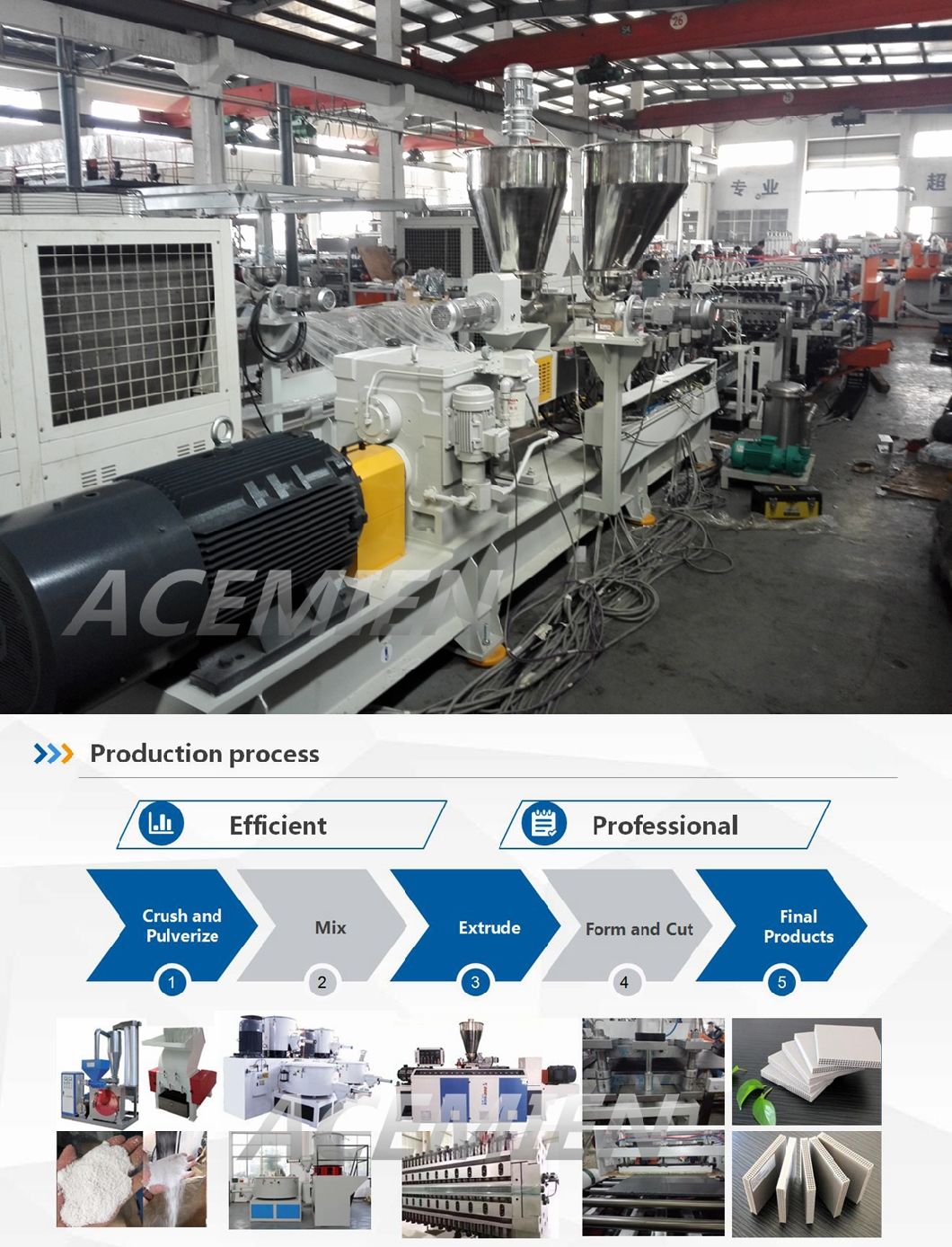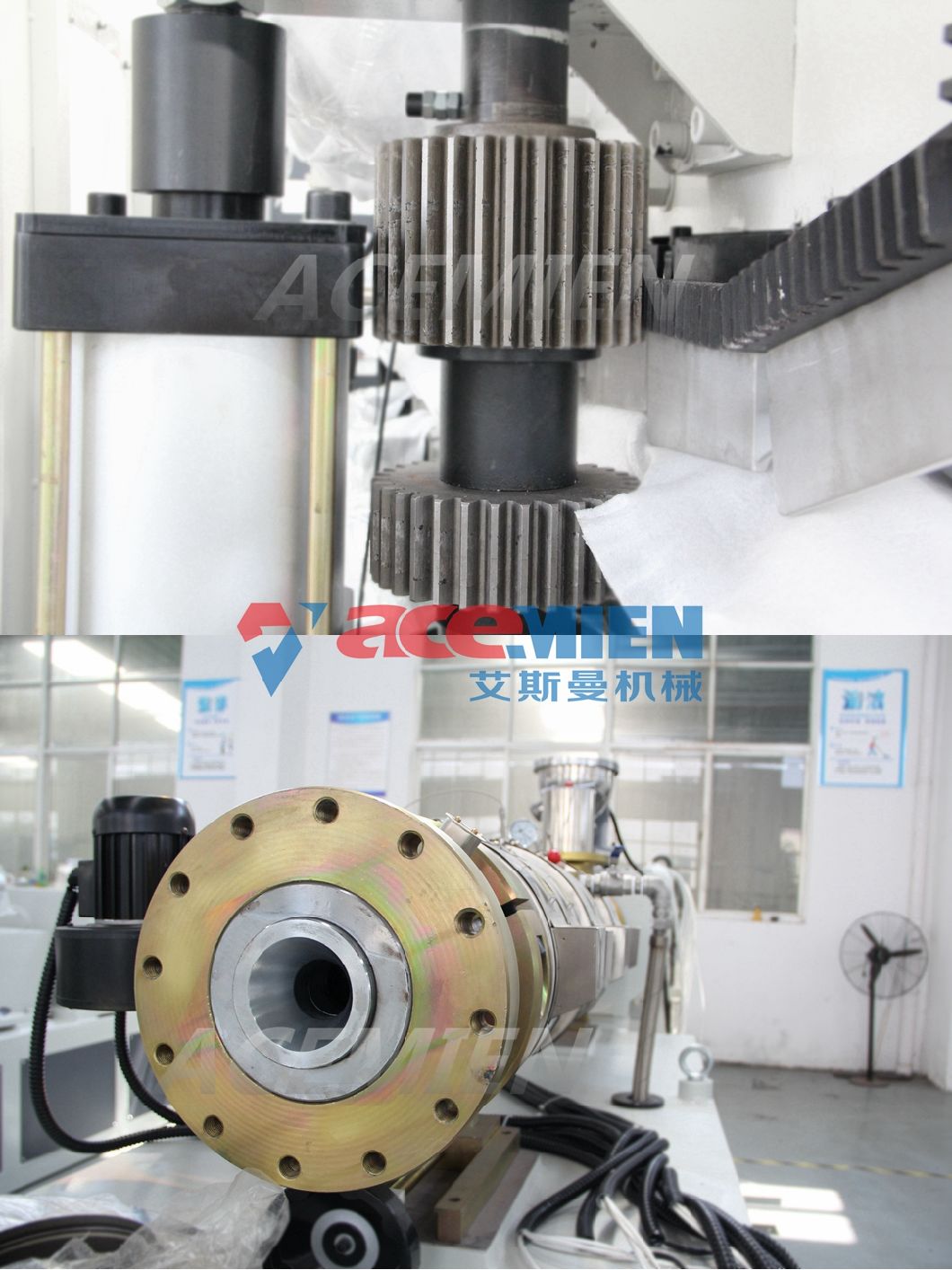 Machine list:
| | | |
| --- | --- | --- |
| No. | Machine | Qty. |
| 1 | Screw loader | 1set |
| 2 | ASM110/35 single screw extruder | 1set |
| 3 | Screen changer | 1set |
| 4 | Metering pump | 1set |
| 5 | Extrusion mould | 1set |
| 6 | Calibration mould | 1set |
| 7 | Mould shelf | 1set |
| 8 | Vacuum calibration table | 1set (3 groups) |
| 9 | Mold temperature controller | 1set |
| 10 | Vacuum system | 1set |
| 11 | Chiller | 1set |
| 12 | Haul-off unit with 6 rollers (Forward) | 1set |
| 13 | Trimming device | 1set |
| 14 | Haul-off unit with 2 rollers (Backward) | 1set |
| 15 | Cutter | 1set |
| 16 | Belt conveyor | 1set |
| 17 | Electrical control system | 1set |
Work Condition (provide by customer)
Temperature & Humidity

≤40

ºC

, ≤95%

Power supply

3-phase, 380 V, 50 Hz(or customized)

Wire/cables:

Wires/cables from power supply to control cabinet of this production line;

Cooling Water hose/pipe

Water supply to machines and pools

Lubrication oil:

Sinopec, Exxon mobile
Energy Consumption
Installation power

Total 250Kw, Actual consumption about 130Kw

Cooling Water

5M3 / h; 20

ºC

Compressed air

1M3 / h, 0.5-0.7Mpa

Manpower

3 Persons/shift(24 hours need 2-3 shifts)
About Jiangsu ACEMIEN Machinery:
Jiangsu ACEMIEN Machinery Co., Ltd is specialized on plastic extrusion and recycling machinery manufacturing.
We have been producing and selling for over 5years. Our equipment is exported to Asia, Africa, etc,
We have top-ranking Research and Development technology system and rich experienced technician team.
Our vision is to offer you the best and the most appropriate plastic extrusion and recycling solution, to offer you the most reliable technically and commercial service support.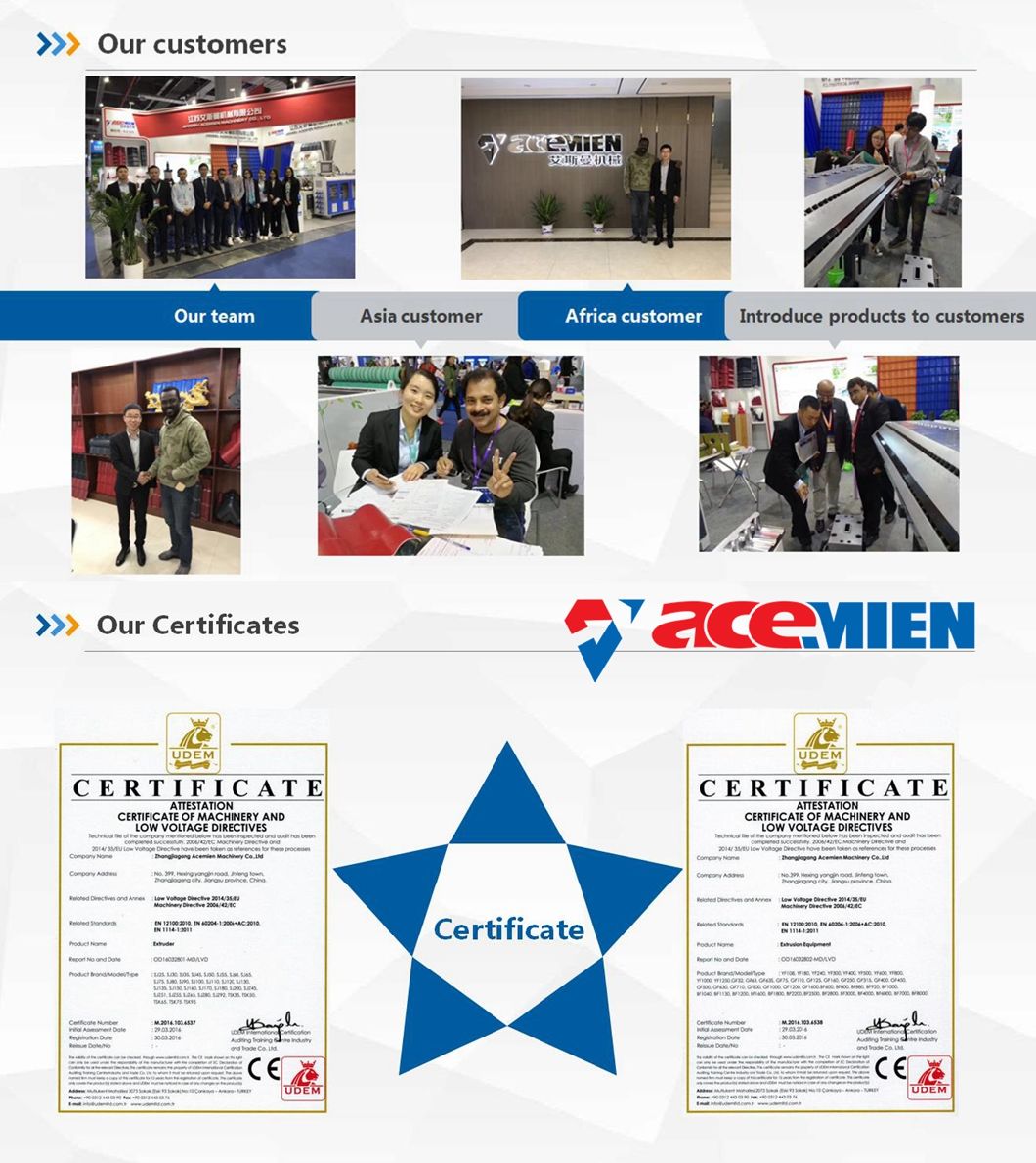 Turnkey project service:
1. we will provide all the machines for the complete production according to customer's requirements.
2. we will provide complete service for factory layout and other information to help customer to build the factory.
3. we can also provide the raw material to the customer if you need.
4. we will provide good service for machine installation and training, until the customers can run the machines and make stably production.
5. Except one year quality guarantee, we will provide after-sell service for all the life.
6. For long-term cooperation, we always provide good quality, good price and good service to customer. we are the professional and trustable supplier for turnkey projects. Let us do win-win business together.