Safety High Quality Glass Straight-Line Beveling Machine ManufacturerTechnical Specifications:
1.Processing speed(m/min):0.84~4.1
2.Min. glass size (mm):120×120
3.Glass Thickness (a) :3~19mm
4.Remain thickness (b): ≥1.5
5.Bevel width :40mm
6.Bevel angle(θ) :3°~45°(θ=arcsin (a-b)/B

7.Size of whole machine L×B×H(mm)8900×1250×2520
8.Weight(kg):About 5500
9.Power(kw):25.21kw
10.Stainless steel water tank
11.The in-feed and out-feed adopts Timing belt to convey.
12.Protect frame using aluminum protect frame.
13.Two option: Digital display; PLC Control
14.The machine with manual and automatic lubricating system
15.All grinding motor using ABB motor.
Wheels position: (From input to output end)
No.1 Diamond wheel
No.2 Diamond wheel
No.3 Diamond wheel
No.4 Round pencil wheel
No.5 Resin wheel (Made in Italy)
No.6 Resin wheel (Made in Italy)
No.7 Resin wheel (Made in Italy)
No.8 Resin wheel (Made in Italy)
No.9 polishing wheel (Made in Italy)
No.10 polishing wheel (Made in Italy)
No.11 polishing wheel (Made in Italy)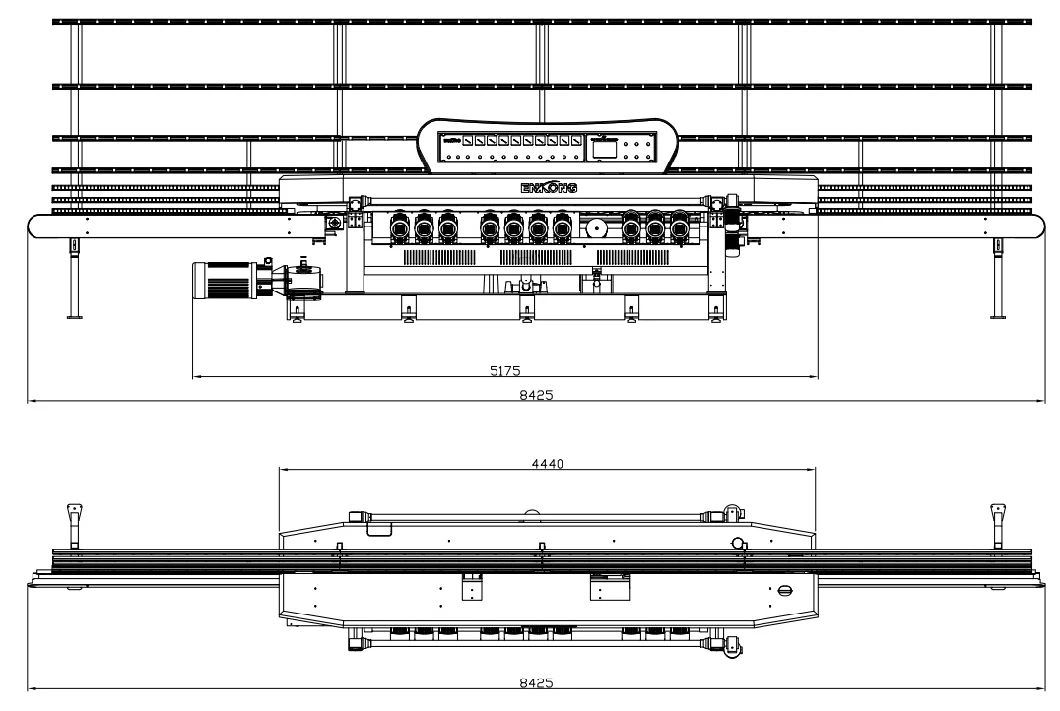 General Information:
1.1 XM371 is designed for grinding and polishing a bevel edge, with bottom edge of glass with
different size and thickness.
1.2 Rough grinding, fine grinding, polishing of bevel and grinding of bottom edge can be completed in
one time.
1.3. The processing speed is adjustable with stepless inverter which offers a wide range of speed selection
1.4 Input and output conveyor adopt timing belt which can improve the transmission precision.
1.5. It is easy to operate and has good performance.
1.6 The wheels and motor adopt direct transmission; and the grinding motor adopts ABB motors.
1.7 This machine had two options, one is digital display. There are four meters; they will display processing
speed, glass thickness, glass bevel angle, surplus thickness. And the other one is PLC Control.