No Matter you buy 1 pcs or 100,000 pcs of magnets, you can not find better service elsewhere.
Shuttering Magnet (Shuttering Magnet for Precast Formwork) Introduction
Precast concrete magnets are very popular in modern civil engineering. In the past 5 years, some conventional magnets were used to position and fasten the formwork, but considerable mechanical loads with a hammer were required, which destroy the surface of the expensive formwork tables and fragile neodymium magnet as well.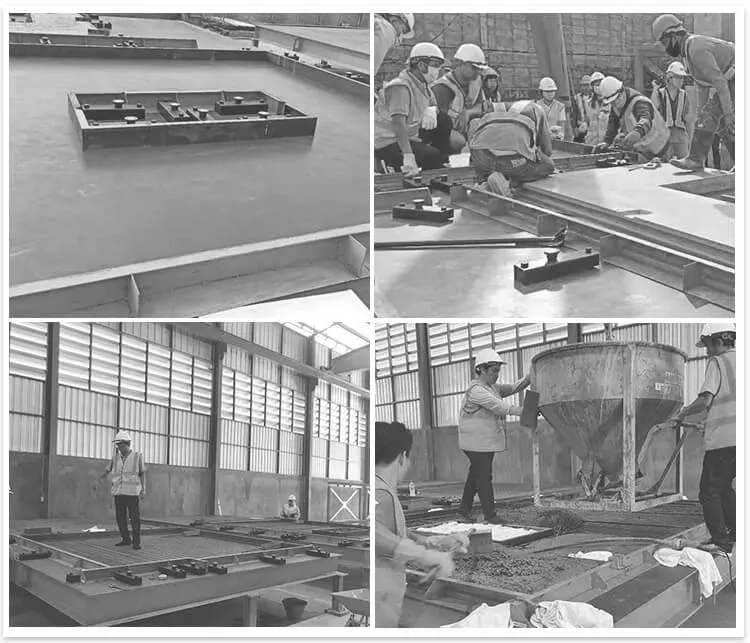 In order to facilitate the precast concrete formwork industry, GME is developing and manufacturing our own shuttering magnet to solve this problem successfully.
Our shuttering magnet also is known as button magnets and magnetic boxes. It is consists of a metal casing, a magnetic system, and an effective on/off button, which provides quick operation leading to improved efficiency when setting out and remove the formwork. Shuttering Magnet. And with customized adaptors, Shuttering Magnet provides an ideal solution for almost all kinds of precast concrete formwork structures and construction for wood, aluminum, and steel shutters.
All GME shuttering magnets have extraordinarily high magnetic power more 250 times than their dead weight. Among of them, Shuttering magnet 1800KG and 2100KGS is a large size for steel precast concrete platform.




The GME shuttering magnet have an automatic system to activate and deactivate the magnetic field. By application of this precast magnet box, the working time and cost will be reduced and the same workers could produce more concrete walls with a shorter time. Under the same artificial conditions, the use of the shutter magnet system can increase the production capacity by 7 times
Key Benefits Of Shuttering Magnets:
1.Easy installation and effortless operation. Your workers could choose a fixed position at will and quickly build concrete formwork according to individual architectural design. Significantly save complexity and time and cost on the installation of magnetic formwork(up to 70%).
2.Universal use for mass production of concrete products, and piece different shape and size concrete elements of all forms on the same steel table. Excellent applicability, the same prefabricated formwork magnet can be adapted to different concrete formworks. You do not need to have a lot of different forms for different products. The same magnet can be used for different purposes and in different ways. You only need a set of magnets, adapters for different height boards, and a steel table. Your workers could contemporaneously build different concrete formworks in one time; even during the building process, your workers could adjust the concrete formwork.
3. Integrated threaded holes M12 and M16 to adapt formwork and customized adapters, to fix all kinds of side-formwork including wood, steel, and aluminum formworks, eliminates the need for welding, shuttering magnets does not damage the steel table. Avoid welding or bolting to the formwork table therefore preserving surface finish and reduce direct damage to the concrete platform in the working.
4.No welding process is required, and the magnetic force of the magnet can be used to fit the template. Avoid welding or bolting to the formwork table therefore preserving the surface finish. No need electric welding, you can save high energy consumption.
5.10-Year-long service life and reusable. Low cost. Short payback period.
Structure and Elements of Shuttering Magnets:
The Shuttering magnet assembly consists of steel Casing and fixing screws and a switchable magnetic block or magnetic core (certain designed magnetic circuit) which is made of some strong neodymium magnets and steel plates.
This magnetic core provides very much strong adhesive force to the precast concrete tables. There is a control ON/OFF button on the top of the shuttering magnet, to open or close the magnetic power.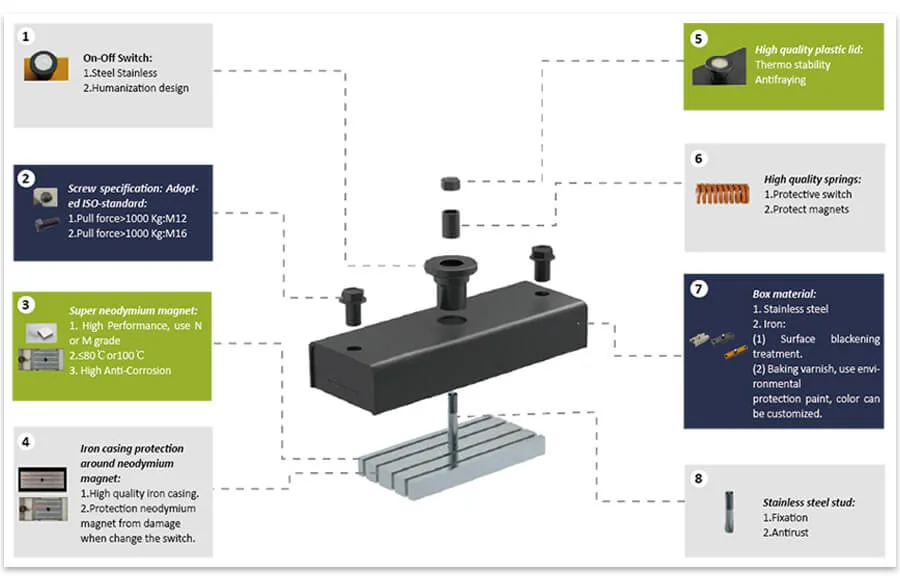 1.Magnet on/off Switch:
1.Stainless steel, Lathe fine grinding,
2. Over 100,000 fatigue simulation experiments, avoid any deformation and malfunction.
3.Humanization design, quick switch (on/off) the magnetic field.
2.Fixing Screws: (Applicable national standard)
Fixing screws can be utilized to secure a different kind of side rails and blockouts
1. Production according to the standard of GB /T 15389-94-GB.
2.Strength ≤1000 Kg: M12
3.Strength>1000 Kg: M16
3.Strong Neodymium Magnet
Many competitors add more 12% Lanthanum Cerium ingredient in the neodymium magnet when production. 6-8% costs can be saved; by this formula, the same Remanence (Br) is the same to Chinese standard, but its Coercive Force (Hcb) and Intrinsic Coercive (Hjc) is much less and its magnetic field will decrease about 10-15% after 6-10 months.
Neodymium Magnet occupied more than 50% cost shuttering magnet. It is the most important element of this product. The most advantage is that Neodymium Magnet is produced and quality controlled by our own since 9 years ago, certificated by GB/T19001-2016 IDT IS09001:2015 and TS16949. Our material is from Shanxi Province, its performance is higher about 1 grade, but expensive a little. Our warranty is 3 years if proper use.
1. Relatively lower price on neodymium magnet.
2. High Grade, N & M Grade.
2. Max operating Temp. ≤ 80ºC
3. Anti-Corrosion, high-quality zinc plating.
5. Strong Strength: 450Kg-3500Kg
4.Iron casing protection around neodymium magnet:
1.High-quality iron casing.
2.Protection neodymium magnet from damage when changing the switch.
3.Partly protections neodymium magnet from corrosion and oxygen.
4.Available for easy-clean of the pneumatic air gun and electric brush.
5.Plastic Casing:
1. High-Quality ABSF
2. Thermal Stability
3. Wear Resistant
6.High Quality Spring:
1. Protect Switch
2. Protect magnet from dropping
3. Japanese alloy steel SWOSC-V, by oil quenching; Fatigue resistance, Excellent toughness. Three times strong pressure treatment eliminates internal stress. Surface shot blasting to improve stress concentration strength.
4. The service life of more than one million times.
7.Box Casing: Laser cutting process
1. Stainless steel.
2. Q235: surface blackening treatment
3. Painting, use environmental protection paint, color can be customized.
4. baking varnish, use environmental protection paint, color can be customized.
8.Stainless steel stud:
1. Strong Fastening
2. Anti-Rust for more than 3 years.
Why the magnet can create more 200 times stronger than its dead weight?
After a reasonable magnetic circuit design, multiple pieces of strong NdFeB magnet with the same magnetic pole are forcibly fixed in a relatively small space by screws. There is a Q235 magnetic permeable block between the magnets, to guide the repulsive force of the same poles in the same direction and perpendicular to the mold table. Multiple magnetic pole lines form a stable magnetic field and a very high magnetic holding force.
How do choose suitable shuttering according to the panel wall height? Shuttering magnet detailed specifications as below: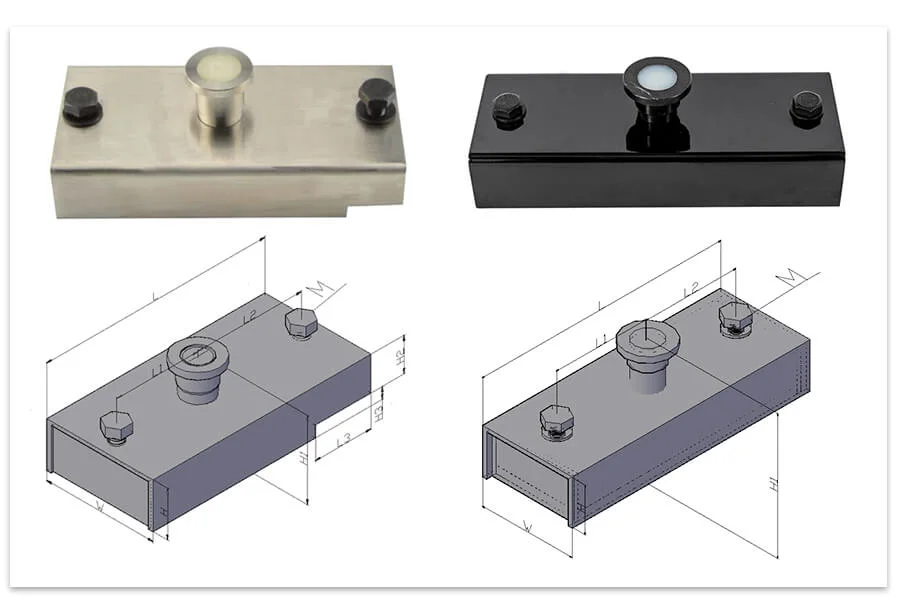 Item
L
mm
W
mm
H
mm
LI
mm
L2
mm
L3
mm
HI
mm
H2
mm
H3
mm
M
Pull Force
≥kg
GME-450
170
60
40
67.5
67. 5
--
73
66.5
--
M12
≥450
GME-600
170
60
40
67.5
67. 5
--
73
66.5
--
M12
≥600
GME-600S-Step
200
60
40
72.5
97. 5
42
73
66.5
10
M12
≥600
GME-800S
190
95
43
67
93
50
80
73.5
10
M12
≥800
GME-900
280
60
40
122
122
--
73
66.5
--
M12
≥900
GME-900S
195
95
43
67
98
50
80
73. 5
10
M12
≥900
GME-1000S-Step
200
95
43
67
100
50
80
73. 5
10
M12
≥1000
GME-1350
320
90
60
135
135
--
98
90
--
M16
≥1350
GME-1350S-Step
320
90
60
113
161
47
98
90
10
M16
≥1350
GME-1300
210
95
45
80
90
40
73
65
10
M16
≥1300
GME-1600
270
120
60
110
110
--
98
90
--
M16
≥1600
GME-1800
320
120
60
135
135
--
98
90
--
M16
≥1800
GME-2100
320
120
60
135
135
--
98
90
--
M16
≥2100
GME-2400
320
120
60
135
135
--
98
90
--
M16
≥2400

GME-2600

320
120
60
135
135
--
98
90
--
M16
≥2600

Why buy a shuttering magnet from us? The GME Shuttering Magnet Advantages:
1.Multi and big Adhesive force ranging from 450 Kg to 3100 Kg. One-stop Solution.
2.More than 15 years of NdFeB magnets production experience. All NdFeB magnets used are produced by our own magnet factory. We can guarantee the quality of the magnet very well, 3 years quality warranty.
3. More than 45 well-trained staff with 5-years magnetic assembling experience, to minimize the loss and damage in the assembly of the magnet, and maximize the assembly speed
4. Standard production process and strict quality inspection, on the material, function, and pull strength.
5. More than 47 magnetic R&D experts with 10-year experience can provide you with the best magnet solution to ensure the strong retention of concrete magnets
6. competitive price (cheaper 50% than Ratec), stable quality(0.2‰ Quality Complaint in 2019 ), timely response within 12 hours.
7. Fastest Lead Time: Ship at Once (Standard Items Security Stock 2 Months)
How does the shuttering connect and fix to the side-formwork?
1. By Pressing Plating


2. By Step on shuttering magnet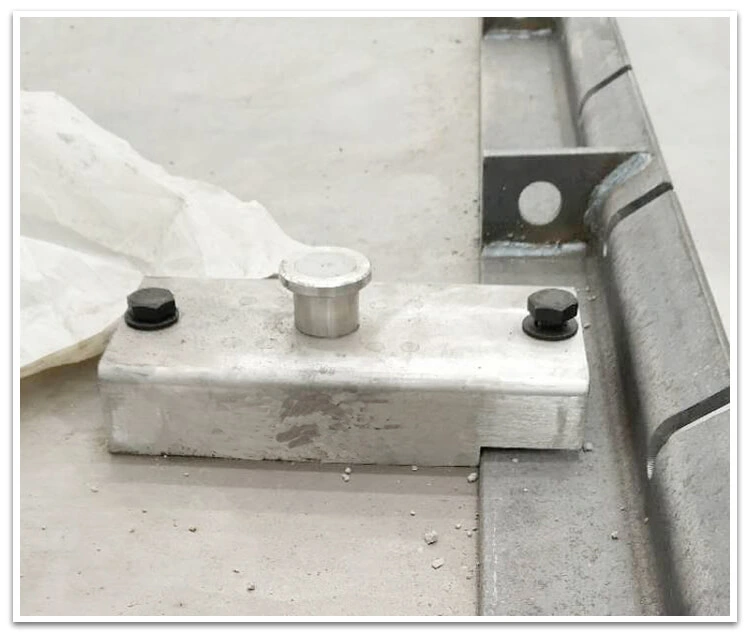 3. By Clamp:


4. By Frame


How to assure the quality for you?
1.Material

1.1Material Purchasing
5R Management Material Procurement System. Our purchasing manager has more than 8-year purchasing experience and rich experience in quality control and the advantages of different factories and different products, and different quality levels. We control every material to have stable 2-3 suppliers, who can get much of our orders, and offer stable quality and excellent service. And in our system, we have more than 1000 backup suppliers there, to meet any special and urgent requirement from clients.
1.2 Incoming material quality inspection and control
Besides the neodymium magnets, we also have strict inspection of every incoming material (Dimensions, Weight, Material level, ductility, permeability, metallographic structure, fatigue test) such as the steel casing, button steel and plastic, the spring, fixing screws, and so on.
In order to improve our inspection strength and ability, we also have a great partnership with 5 3rd party inspection organization, to do to regular and irregular material analysis and inspection.
2. Excellent production equipment for the quality internal control on quality and lead time
Most competitors outsourcing the post-production processing to a small workshop, but the quality and process control is lacking an internal inspection. Even they found the problem, it is difficult to improve and solve, and finally, clients burden the loss. This is a serious current situation and problem for Made-in-China production.
Compared with other competitors, we have spared no effort to improve our self-production ratio, equipment-owned ratio since 3 years ago. We imported the automatic laser cutting bed from Europe, to improve precision-oriented and bending machine and so on. It can be said that apart from painting and baking, we have almost mastered all the processes and equipment for the production of shuttering magnet, which leads to better, stricter internal control than our competitors.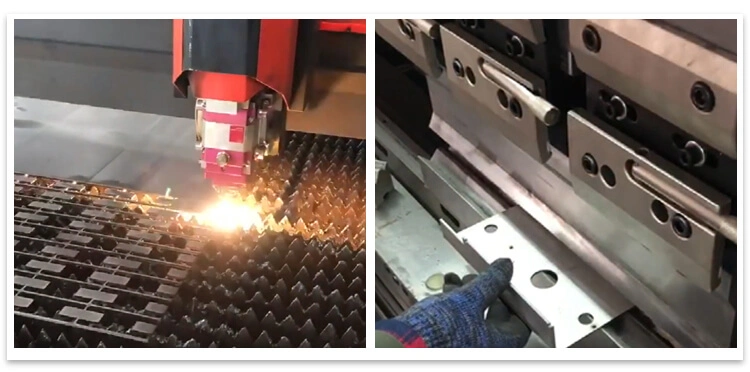 3. Pull Strength Testing:
Regarding the detection of suction, we will inspect all orders with less than 10 pcs; if the orders are higher than 10 pcs, our inspection ratio is 10%.
4. QM& QC System
We also use the Advantaged Product Quality Planning (APQP), Potential Failure Mode and Effects Analysis (FMEA), Statistical Process Control (SPC) Production Part Approval Process (PPAP), Measurement System Analysis (MSA) Error Proofing method to prevent the defects from occurring.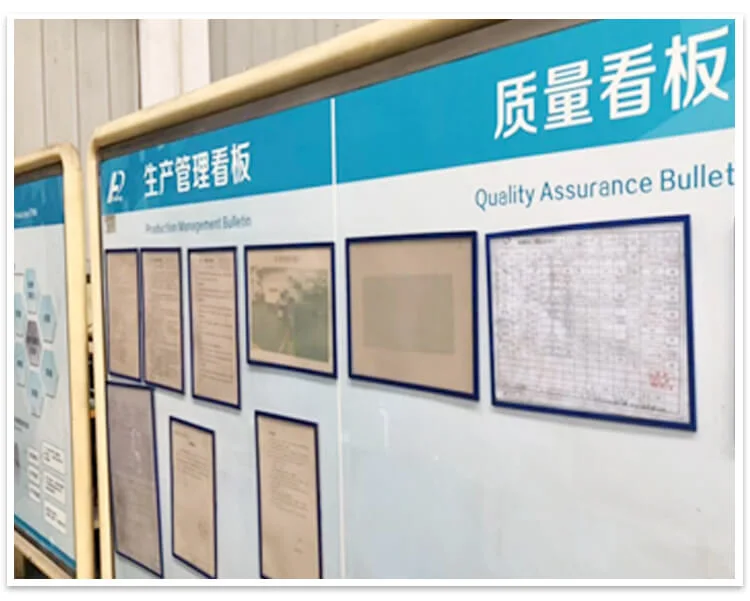 As mentioned above, the safety stock of our regular products is 2 months. In addition, our safety stock of raw materials and accessories exceeds 3 months. So our magnetic box delivery delay rate in 2019 is 0%.
How to control the Lead time:
Our team of workers has more than 5 years of experience in magnetic product assembly. Our daily production capacity is 800-1000 pieces, taking GME-2100 as an example.
In addition to the painting and baking process, we have mastered all other processes and equipment, and the internal production process control is strictly in place. If you have special and urgent orders, please let us know, we can coordinate internally to help you complete the delivery goals.
Daily, weekly, and monthly production plans are reviewed and updated to ensure that your team delivers timely feedback and progress every day, week, and month.

How to Pack a shuttering magnet, to meet with your requirement shipping by sea, by air/express, and by railway?
Your shuttering magnet will pack with a double-wall corrugated carton firstly and tight with a strong packing belt. Between cartons and shuttering magnet, between magnets, there is a high-quality foam plate to separate and protect products from scratch and damage.
1. By Sea, you have 2 packing options by sea.
1.1 Packing by Pallet
1.2 Packing by Strong Wooden Case.
This option looks more formal and beautiful. But it is more expensive 35USD per Case than option 1.
2. What should you pay attention to when shipping shuttering magnet by air?
By Air and Express such as FedEx, DHL, UPS, and TNT:
In international air/Express transportation, magnetic items are sensitive, and their magnetism will interfere with the safety of aircraft transportation. Therefore, the airline decided that all items containing magnetism need to be magnetically inspected.
So we need to magnetically shield the items so that the magnetism of the items meets airline standards. So packing needs to insert thick iron sheets or iron boxes between the foam and carton wall.
Friendly tips:
When magnetic items are shipped together with non-magnetic items, all items must be checked for magnetism.
The magnetic inspection report is a one-time report and is only used once. Next time, even if you use the same logistics channels for the same items, you still need to do a magnetic inspection and obtain the corresponding magnetic inspection report. Except for FedEx and DHL, they accept annual magnetic reports.
By Railway, we use the same packing standard to that of by air.
How to use the Shuttering Magnet:
It is very easy to use this product. Simply move the concrete magnet onto the precast concrete platform (or tray) and press the button.
Open the magnetic field:
Press the button by foot or rubber hammer.
Close the magnetic field:
Pry up the button by the lift lever (also known as the crowbar), the button can easy to be pulled up.
Tip: use 2 pcs tools together when removing more than 1000KG, in case of the lever bending
Maintenance of Shuttering Magnets:
First, In the use of the shuttering magnet:
It should avoid any debris at the bottom on the table, affecting the magnetic force of the shuttering magnet too much and the mold table. We use high-performance rare earth permanent magnet materials to produce strong magnetic attraction in the magnetic circuit. When the shuttering magnet is in the working state, the suction surface at the bottom of the magnetic block is closely attached to the steel mold platform and is firmly held. However, when there is a foreign matter (such as concrete, grease, film) at the bottom of the magnet block, it cannot be closely attached to the platform, and the attraction power will be significantly reduced.
To this end, we take the GME-1000 shuttering magnet as an example to research the relationship between the holding force and the bottom of the magnet block and the platform clearance. We placed 0~10 sheets of A4 paper (the thickness of each sheet is 0.09mm) between the bottom of the magnet block and the platform to test the adsorption force of the shuttering magnet under different gaps. The test data is as follows:
As can be seen from the above figure, the gap between the bottom of the magnet block and the platform will significantly affect the holding capacity of the shuttering magnet, so we recommend that the customer maintain the shuttering magnet as follows:
Secondly, clean the debris on the bottom and the debris on the table:
Before using the shuttering magnet, make sure the bottom of the magnetic block and the platform are clean and flat. If there is a foreign matter at the bottom of the shuttering magnet, it can be cleaned with a stainless steel scraper (the iron scraper will be absorbed and cannot be cleaned). If there is concrete, it is difficult to clean the material. At the time, it can be cleaned with a polishing knife. As shown in the figure below, the wire polishing plate is installed on the sander to polish the bottom of the magnet block.
We cleaned it with a pneumatic air gun if you have.
Third, gently take care to prevent damage to the magnet inside and the shuttering magnet:
As the high-performance permanent magnet material used is sintered by rare earth materials, it is hard and brittle, and it is easy to be broken, similar to ceramics, Therefore, during the use of the shuttering magnet, it should be prevented from falling and chaos, and it cannot be thrown at a long distance after it removes from the mold. Avoid using a hard tool (such as an iron big hammer) to knock, bump, etc., causing the shuttering magnet to deform. As shown below:
Fourth, the shuttering magnet collection:
After the shuttering magnet is used, the shuttering magnet should be cleaned and placed on the stainless steel cart to keep the shuttering magnet clean for convenient use. The shuttering magnet should not be placed on the iron cart to avoid it being caught and cannot move away.
Fifth, shuttering magnet storage:
1. When the shuttering magnet is not used for a long time, after the shuttering magnet is cleaned, apply anti-rust oil (such as Mobil, Great Wall, etc.) at the bottom of the shuttering magnet to prevent the magnet block from rusting and affect the holding power.
2. The ambient temperature of the shuttering magnet used and stored should be no higher than 80 °C, and there is no corrosive medium such as strong acid or alkali. In summary, as long as the above protection, cleaning, and prevention of knocking, etc., I believe that the shuttering magnet of Great Magtech (Xiamen) Electric Co., Ltd. will be durable and trustworthy!
How clients use our shuttering magnets:
USA Client:
Thailand Client:
Please contact us for a fast reaction and excellent service.

For more information, please refer to greatmagtech.en.made-in-china.com