Full hydraulic Inner climbing tower concrete placing boom
FOCUS Hydraulic Drive Concrete Placing Boom:
Mobile Placing Boom: It can be placed in suitable construction sites required without being fixed. It features compact structure, light weight and can be lifted as a whole by a crane. With excellent maneuverability, it can meet the requirements for concrete placement on different jobsites, and is ideal for concrete pumping and placing. Easy operation, reliable safety and economical purchase.
Wheels Walking Type Concrete Placing Boom: This type is compased of the parts as placing boom unit, slewing bearing, body, support, concrete pipeline, hydraulic system, electric control system and traction chassis, etc.
With 3 section R-type placing arm structure, achieving 3 arms actions and slewing bearing rotary by hydraulic system, by clewing bearing rotating and arms acting, it can delivery concrete to the required construction site.
It is widely used in concrete pouring construction projects owing to easily moving, The wheels walking type concrete placing boom has dragged mechanism, can quickly and easily move to palcing concrete, and it also can do the tranitions between short distances by tranctor pulling, in a relatively short time to complete the transfer of the machine.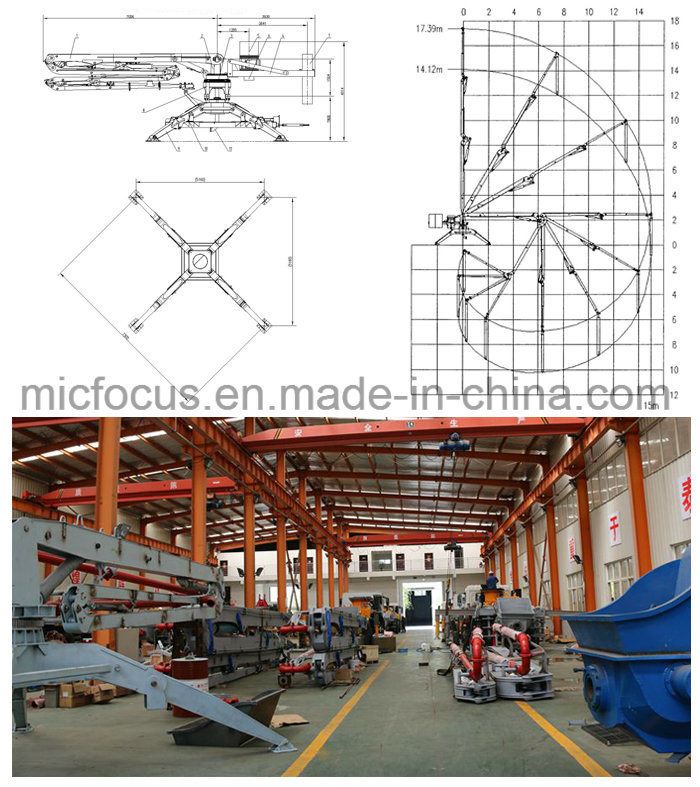 FOCUS Concrete placing boom Technical Parameters:
Item

Unit

Models and parameters

HGY13

HGY15

HGY17

HGY18

HGY21

HGY24

HGY28

HGY32

Max. placing radius

m

13

15

17

18

21

24

27.45

31.7

Big arm length

m

3.7

6

6.66

7.66

11

12

12.545

14.5

Big arm elevation

°

-2~84.4

0~70

0~65

0~65

0~65

0~65

0~65

0~65

Medium arm length

m

4.52

5

5.73

5.73

6.5

7.5

8.82

9.2

Medium arm elevation

°

0~180

0~180

0~180

0~180

0~180

0~180

0~180

0~180

Small arm length

m

4.78

4

4.61

4.61

3.5

4.5

6.085

8

Small arm elevation

°

0~180

0~180

0~180

0~180

0~180

0~180

0~180

0~180

Hose length

m

3

3

3

3

3

3

3

3

Concrete delivery pipe

mm

ø125×6

ø 125×6

ø 125×6

ø 125×6

ø 125×6

ø 125×6

ø 125×6

ø 125×6

Tail rotary radius

m

2.72

2.81

3.51

3.93

3.9

3.9

3.9

-

Total power

Kw

4

4

5.5

5.5

5.5

5.5

5.5

15

System pressure

Mpa

24

24

24

24

24

24

24

24

Rotary speed

r/min

0.3-0.8

0.3-0.8

0.3-0.8

0.3-0.8

0.3-0.8

0.3-0.8

0.3-0.8

0.3-0.8

Rotary range

°

0~360

0~360

0~360

0~360

0~360

0~360

0~360

0~360

Mast section

m

1.2×1.2×3

1.2×1.2×3

1.2×1.2×3

1.2×1.2×3

1.2×1.2×3

1.2×1.2×3

1.2×1.2×3

1.2×1.2×3

Bare machine weight

kg

2500

3000

4800

5200

5900

6500

7000

Balance weight

kg

2×900

2×1100

2200

2×1100

3×2000

3×2000

4×2000

-

Control mode

Panel/ Wireless remote control
Our Concrete Placing Boom have been installed and operated all over the world: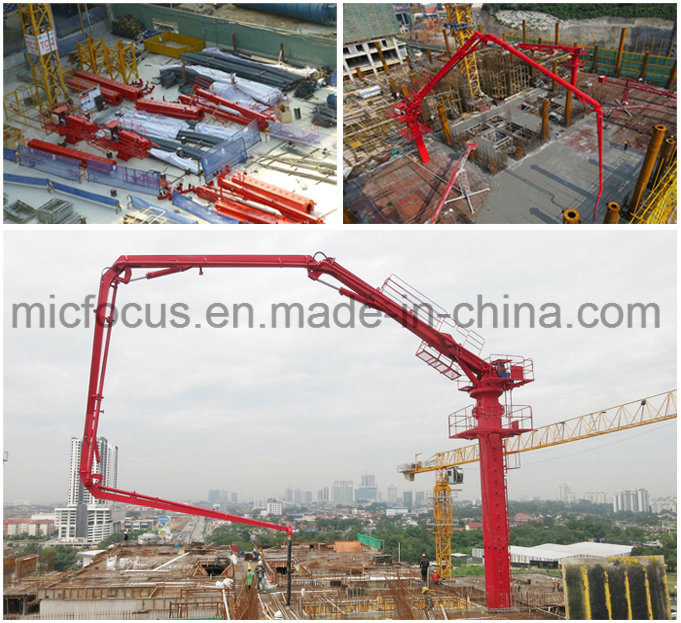 Our Concrete Placing Boom have been delivered /distributed to the world and received high reputation-it'll be such a great honor if you can join us: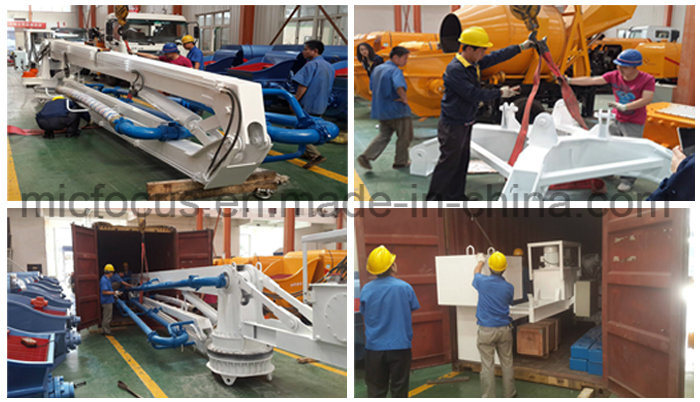 Concrete Placing Boom
1.High quality and good price
2.Great after-sale service
3.ISO CE and CE certified,12 months warranty