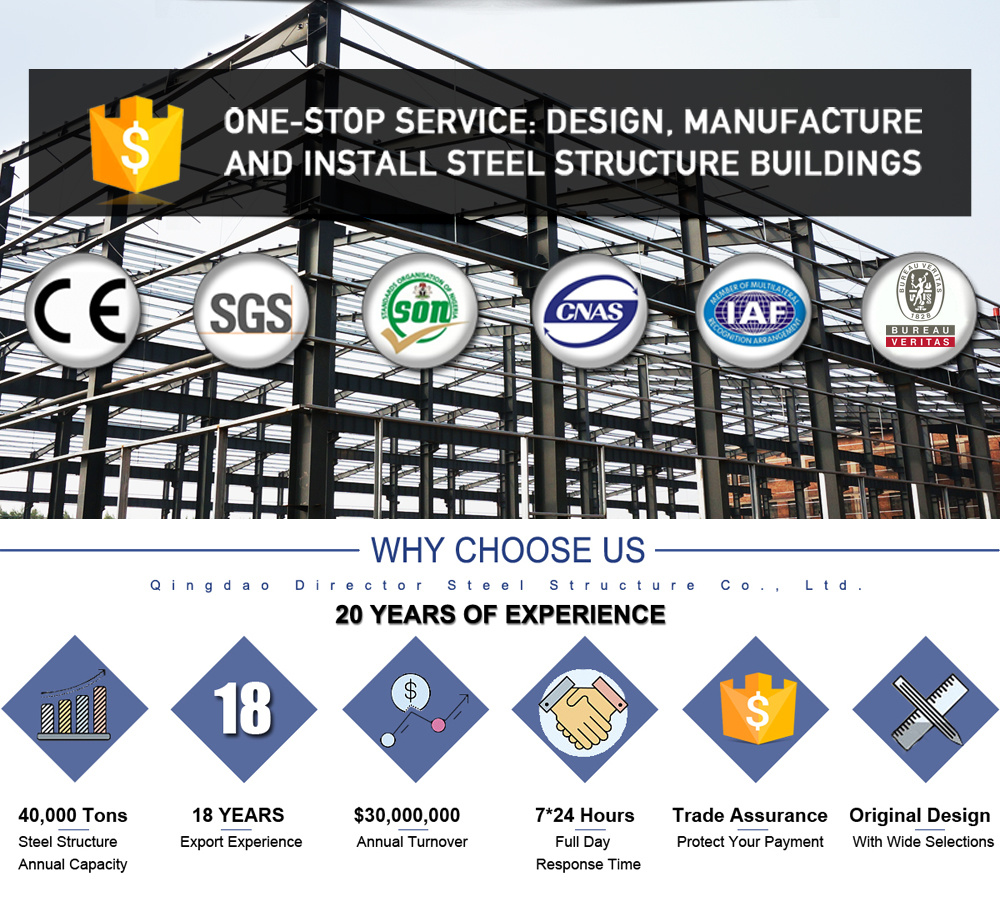 Fast Installation Cellular H Beam Iron Affordable Light Steel Structure Prefabricated Warehouse
In structural engineering, a pre-engineered building (PEB) is designed by a PEB supplier or PEB manufacturer, to be fabricated using best suited inventory of raw materials available from all sources and manufacturing methods that can efficiently satisfy a wide range of structural and aesthetic design requirements. Within some geographic industry sectors these buildings are also called Pre-Engineered Metal Buildings (PEMB) or, as is becoming increasingly common due to the reduced amount of pre-engineering involved in custom computer-aided designs, simply Engineered Metal Buildings (EMB).
Historically, the primary framing structure of a pre-engineered building is an assembly of I-shaped members, often referred as I-beams. In pre-engineered buildings, the I beams used are usually formed by welding together steel plates to form the I section. The I beams are then field-assembled (e.g. bolted connections) to form the entire frame of the pre-engineered building. Some manufacturers taper the framing members (varying in web depth) according to the local loading effects. Larger plate dimensions are used in areas of higher load effects.
Other forms of primary framing can include trusses, mill sections rather than three-plate welded, castellated beams, etc. The choice of economic form can vary depending on factors such as local capabilities and variations in material vs. labour costs.
Typically, primary frames are 2D type frames (i.e. may be analyzed using two-dimensional techniques). Advances in computer-aided design technology, materials and manufacturing capabilities have assisted a growth in alternate forms of pre-engineered building such as the tension fabric building and more sophisticated analysis (e.g. three-dimensional) as is required by some building codes.
Cold formed Z- and C-shaped members may be used as secondary structural elements to fasten and support the external cladding.
Roll-formed profiled steel sheet, wood, tensioned fabric, precast concrete, masonry block, glass curtainwall or other materials may be used for the external cladding of the building.
In order to accurately design a pre-engineered building, engineers consider the clear span between bearing points, bay spacing, roof slope, live loads, dead loads, collateral loads, wind uplift, deflection criteria, internal crane system and maximum practical size and weight of fabricated members. Historically, pre-engineered building manufacturers have developed pre-calculated tables for different structural elements in order to allow designers to select the most efficient I beams size for their projects. However, the table selection procedures are becoming rare with the evolution in computer-aided custom designs.
While pre-engineered buildings can be adapted to suit a wide variety of structural applications, the greatest economy will be realized when utilising standard details. An efficiently designed pre-engineered building can be lighter than the conventional steel buildings by up to 30%. Lighter weight equates to less steel and a potential price savings in structural framework.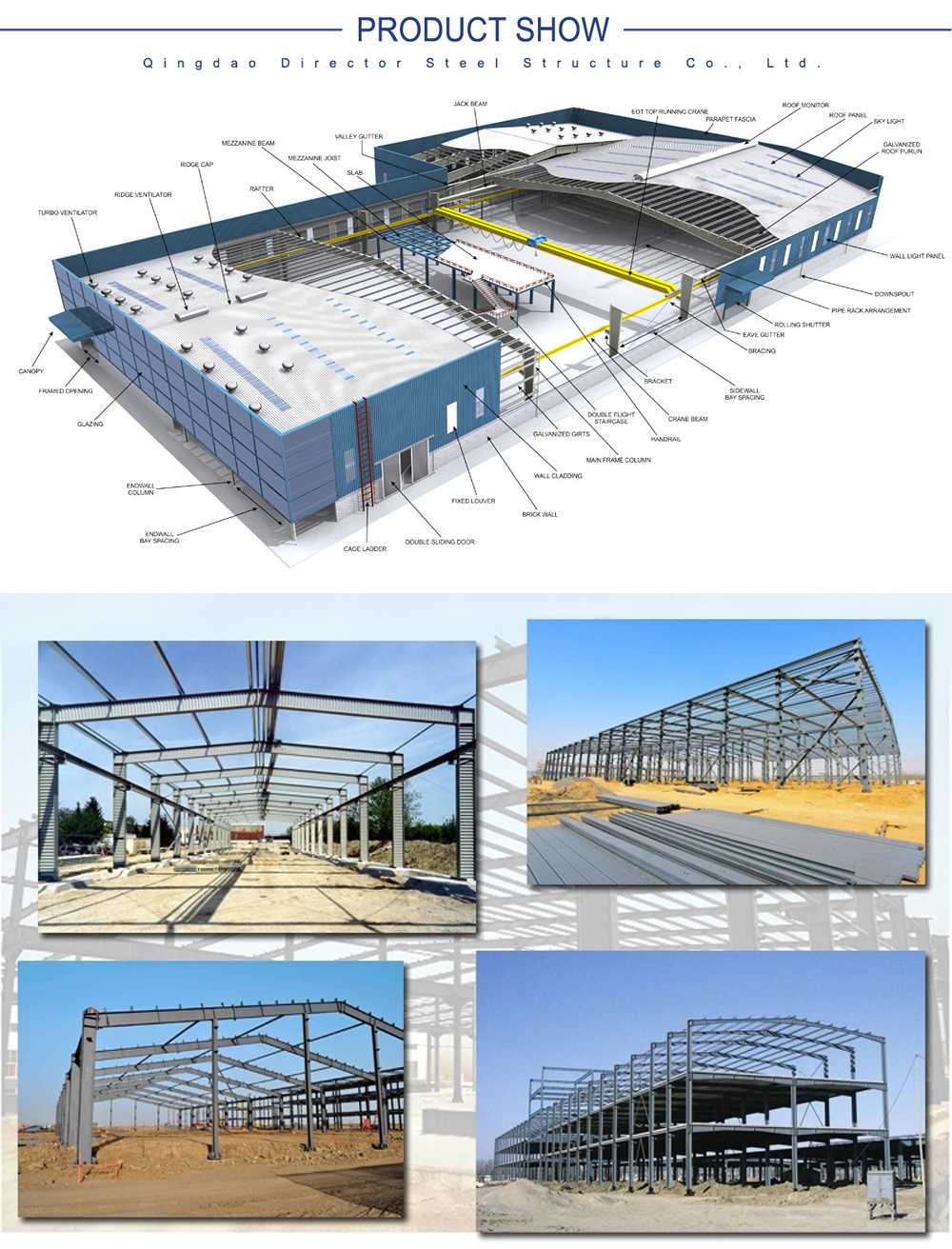 Metal Frame Structure Design
1) Simple steel structure
Main structure
Single span shorter than 18m,lower than 6m
Maintance system
Roof
Colored steel sheet with 50mm glass wool insulation
Wall
Colored steel sheet
Door
Simple steel rolling shutter(within 10m2)
Window
Very few
Usage
Warehouse,workshop,
Standard and suitable market
Africa,mid-east, Australia (no snow,wind load below 0.4kn/m2)
(2) Standard steel structure
Main structure
Single span shorter than 24m,lower than 8m
Maintance system
Roof
Colored steel sheet with 50mm glass wool insulation
Wall
Colored steel sheet or 50mm EPS sandwich panel
Door
Wind resistance rolling door(within 15m2)
Window
Alu.alloy(can with skylight)
Usage
Warehouse,workshop,shopping mall,exhibition,supper market
Standard and suitable market
Snow loading below 0.5kn,wind loading below 0.5kn/m2
(3) Cold region(heavy snow)steel structure
Main structure
Single span shorter than 18m,lower than 6m
Maintance system
Roof
EPS/rock wool/PU sandwich board
Wall
EPS/rock wool/PU sandwich board
Door
PU foamed rolling door
Window
Alu.alloy, Hollow glass
Usage
Warehouse,workshop,hangar,shopping mall,exhibition hall,supper market
Standard and suitable market
Cold region such as Norway,Russian,North Canada, Finland, Icelan Greenland, Sweden,etc.(snow loading below 3kn,wind load below 1KN/M2)
(4)Steel structure with crane(5T,10T,20T)
Main structure
Single span shorter than 20m,lower than 10m
Maintance system
Roof
Colored steel sheet with 50mm glass wool insulation
Wall
Colored steel sheet or sandwich board
Door
Wind resistance rolling door(within 15m2)
Window
Alu.alloy(can with skylight)
Usage
Warehouse,workshop, hangar
Standard and suitable market
Snow 0.5kn,wind load below 0.5kn/m2
Below is the aircraft repair hangar workshop we made in Maldives in year 2014.
size: 48X30X12M
beam and post: H section steel
wall and roof panel: 0.6mm steel sheet
purlin: C purlin
Checking Cost Of steel structure, Please Give Us The Information
(1) Dimension: Length, width, height, eave height, roof pitch, etc.
(2) Doors and windows: Dimension, quantity, position.
(3) Local climate: Wind speed, snow load, seismic magnitude etc.
(4) Insulation material: Panel type, sandwich materials, sandwich thickness
(5) crane metal structures: if have overhead crane, please tell the lifting height and lifting weight.
(6) Is there any materials that are not allowed to import to the country where the structure is planning to use?
(7) If you have other requirements, such as fire proofing, insulated roof, etc. Please also inform us.
(8) It's better if you have your own drawings or pictures. Please send them to us.
steel structure workshop warehouse building main components.
| | | |
| --- | --- | --- |
| 1 | main steel frame | Q235 Q345 steel H beam and comlumns, painted or galvanized, box steel, galvanized C section or steel pipe |
| 2. | Secondary frame : | galvanized C or Z purlin , steel bracing , tie bar , knee brace , flashing etc. |
| . | Roof panel : | EPS sandwich panel , glass fiber sandwich panel , rock wool sandwich panel , and Pu sandwich panel or steel sheet |
| | Wall panel : | Sandwich Panel or Corrugated Steel Sheet |
| | Tie Rod: | Circular Steel Tube |
| | Brace: | Round Bar |
| | Knee Brace: | Angle Steel |
| | Roof Gutter: | Color Steel Sheet or Galvalume sheet |
| | Rainspout: | PVC Pipe |
| 3. | Door: | Sliding Sandwich Panel Door or rolling Metal Door |
| | Windows: | PVC or Aluminum Alloy Window |
| | Connecting: | Anchor bolts, intensive bolt , galvanized machine bolt, self-drilling screws |
| 4. | Packing: | according to the pack list made by our engineer |
| 5. | Drawing: | We can supply structural steel engineering design and instalaltion drawing |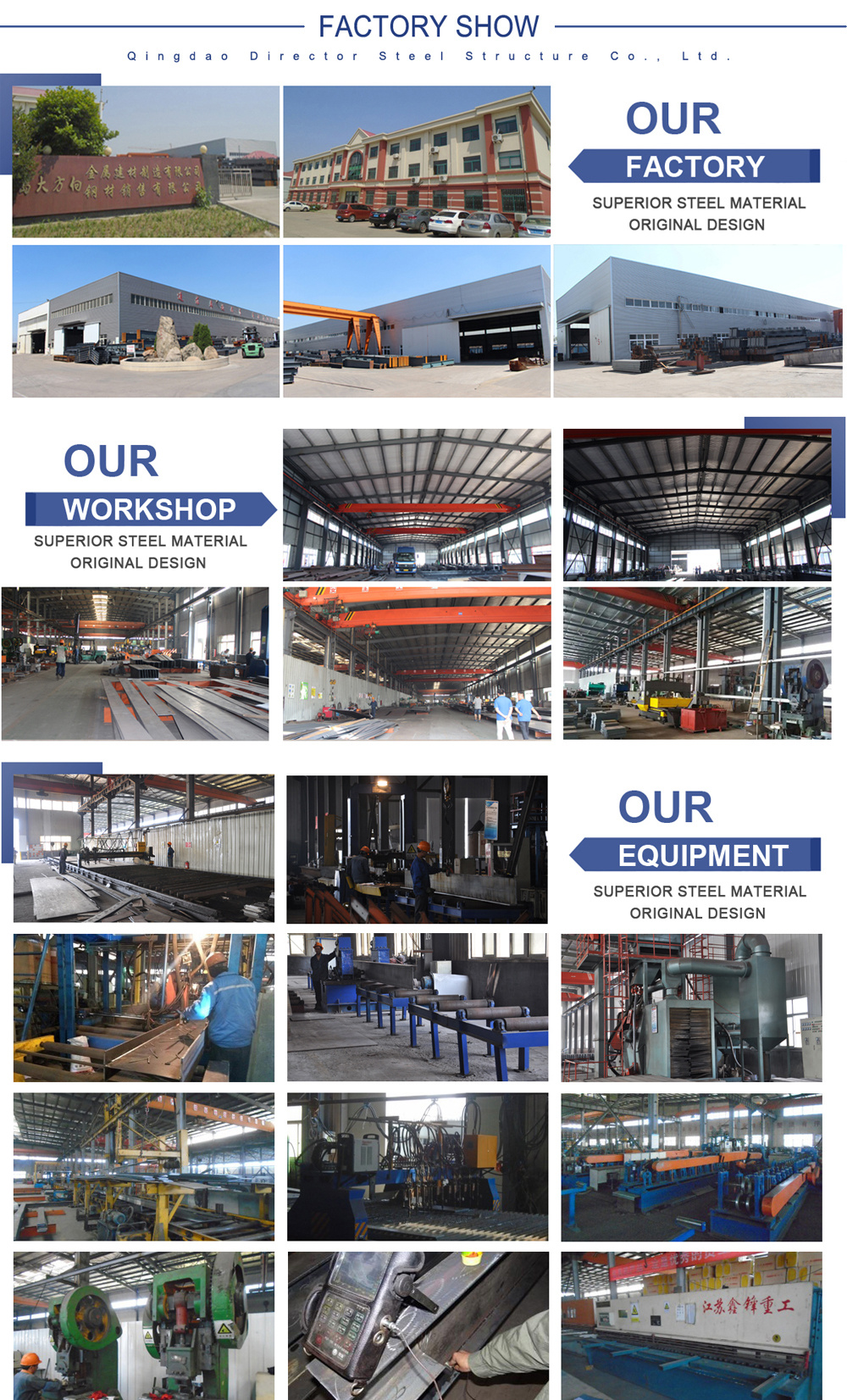 Director Co.,Ltd is a China based manufacturer of steel structure building, prefabricated house and related steel products. Our products include the prefabricated house, steel structure building such as warehouse, workshop, dormitories, etc.) Container house, modular house, sandwich panels and so on. e have exported our products to over 40 different countries around the world. We have our own engineers who can provide the perfect designs according to the customers' demand.
We are an ISO9001 registered company, and we produce the products in Chinese National Standard, international standard, and customer's special request.
FAQ
1.Common type of the industrial building?
Reply:Portal frame is the usual type in the industrial workshop and warehouse shed.Other types also could be designed and manufacturer as per clients's equest.
2.What's the quality grade of the steel structure components?
Reply:Q345 is used for main steel structure,Q235 is used for secondary steel structure.
3.How about the delivery time?
Reply:Usually,within 25-60 days after the order confirmed,also depends on the fabrication quantity.
4.How about the derust grade?
Reply:Ball blasting Sa2.5 on main steel structure manual derust St2.0 on secondary steel structure.
5.What kind panel used for the roof and wall?
Reply: Color corrugated steel sheet and sandwich panl could be used.Sandwich panel performs well on the heat insulation,sound insulation.Common sandwich materials are EPS,glass wool and PU.
6.How to install it?
Reply: We will furnish you the detailed construction drawing and theconstr uctionmanual
which could help you to erect and install the building step by step.We also could send the engineer your local to help you if needed.
7.Maintenance:
Reply:Finish paint need be done after the frame installed,and do it again after 6-8 months.So the surface willstay m ore time.